ReMade in Italy
"Circular Economy" first of all means recycling, therefore the activity of companies that produce innovation and environmental sustainability minimizing resource input and waste, emissions and energy impacts.

ReMade in Italy® is a non-profit, non-governmental organization aimed to promoting recycled products through independent third-party certification. It was found in 2009 and in 2013 Accredia (Italian National Accreditation Body) recognized it as the first certification scheme in Italy and Europe to verify the recycled content in a product.
Certification attests the traceability of production, starting from the verification of the source of input raw materials, to the finished product, representing a tool for transparency and simplification for Green Public Procurement and the private market.
For the public administration, certified products mean a guarantee of the environmental requirement on recycling materials and products for all sectors.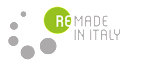 The Association
The certification scheme is governed by a non-profit organization, legally recognized, gathering companies that realize recycled products in various category (building, street furniture, office furniture, schools, textiles and many more).
The Association is independent and reinvests revenues in institutional activities supporting Associated Companies for self-promoting on the public and private market and in strengthening the relationship with the competent Institutions.
For more information: info@remadeinitaly.it